Our P25 Compliance Assessment Program (CAP) conventional interoperability testing kicked off last month as four different vendors tested their equipment with the ATLAS® P25 infrastructure system.
This key P25 compliance event included KENWOOD as well as three other outside vendors including Motorola Solutions, Harris Corp., and Unication USA Inc. The P25 CAP certification, mandated by the Department of Homeland Security (DHS), is designed to ensure that radio vendors show evidence of compliance with the latest P25 interoperability requirements. Testing is conducted at one of the six currently DHS-recognized P25 interoperability testing labs carefully vetted to assess performance, conformance, and interoperability between the participating vendors.
Over the course of the week, each vendor tested their products with the ATLAS system infrastructure at our DHS-accredited P25 testing lab in Irving, TX:
KENWOOD tested the NX-5400, TK-5410, and TK-5320
Motorola Solutions tested the APX 8000
Harris tested the XL-200P
Unication tested the U3 7/800 Portable and G Series 7/800 Pager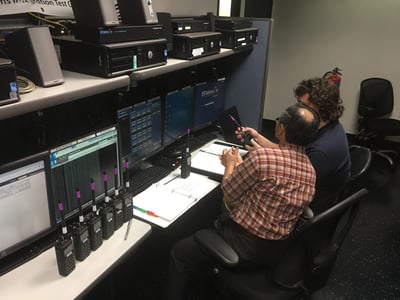 All tested equipment flawlessly met compliance to the 2016 CAB P25 CAP requirements for interoperability with the ATLAS P25 system.
Although participation in the P25 Compliance Assistance Program is voluntary, it is vital that vendors prove their products' performance to first responders who rely on radio communications as their lifeline. Public safety agencies need to be able to communicate with personnel often on different systems from different vendors. During these emergency scenarios, fire, police, and other government agencies will be able to communicate with one another with confidence aided by the P25 CAP requirement for all vendors.
Participating in the Project 25 Compliance Assessment Program is just another way that we make safe simple for public safety agencies. We adamantly believe that we are better equipped to serve our customers by encouraging and supporting the integration of multiple vendor's P25 components that best meet the needs of your agency. We test all of our equipment at three different vendor labs to ensure interoperability, conformance and performance is met as part of the P25 CAP program and continuously update our lab capabilities, equipment, and processes to be fully recognized by DHS as an accredited P25 testing lab.
Choosing a vendor who is P25 compliant ensures that your equipment is future-proof. When you are looking to expand your system in the years to come, you can easily purchase another manufacturers' infrastructure or subscribers and have confidence that these products will work and work together.
It is important to check the DHS website before you purchase P25 equipment to make sure that the radios or infrastructure equipment are P25 CAP certified and grant-eligible. Each year, billions of dollars in grant funding is allocated to P25 equipment purchases, but these grants are not available for equipment that hasn't been CAP certified.
Download the ATLAS System Overview to learn more about the most modern and flexible P25 system with the lowest total cost of ownership for public safety agencies.
About the Author
Richard Wiens is a product development project manager with over 5 years of P25 industry experience. He joined the JVCKENWOOD team in 2015 and is largely responsible for leading subscriber technology development projects.
Fun Fact: Richard holds his private pilot's license for over 17 years running and has held an aviation radio operator's license throughout all his years flying.